Indonesia police recapture bomber who escaped in a burka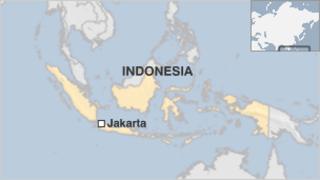 Police in Indonesia have recaptured a convicted bomber who escaped a detention centre by disguising himself in a burka last month, officials say.
Roki Aprisdianto was sentenced to six years in prison in 2011 for his role in plotting a series of bombings.
Reports say he was in a Jakarta facility when some burka-clad women visited their husbands. He is said to have put on one of the garments.
Police have reportedly stepped up screenings of visitors.
Aprisdianto was wearing a burka on Monday night when he got onto a bus but was arrested when he took the veil off, thinking he was safe, a police spokesman told BBC Indonesian.
The spokesman added that police had tightened procedures around visitors to suspects detained for terrorist offences by having policewomen check visitors wearing a burka when they arrive and leave.