'Long way to go' on justice for Afghan women - UN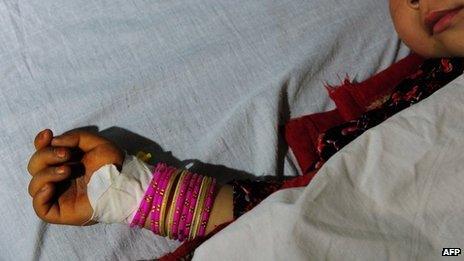 Afghan women victims of violence are still being failed by the justice system, according to a new UN report.
Although there had been some progress in implementing a 2009 anti-violence law, overall use of the law "remained low", the report says.
Cultural pressures and inconsistent police practices are hampering implementation of the law, it added.
The report comes after a spate of high-profile cases of violence against Afghan women.
Last month, two men were arrested in Kunduz province for allegedly beheading a girl after her father rejected a marriage proposal for her.
However, details of the killing remain unclear and there are conflicting reports about exactly what happened.
Also last month, four Afghan policemen were jailed for 16 years for raping a young woman in northern Kunduz province this year.
The case drew attention after Lal Bibi, 18, reported the attack. Afghan victims of sexual abuse rarely speak out.
Violence against women remains under-reported because of "cultural restraints, social norms and taboos... and at times, threat to life," the report by the United Nations Assistance Mission in Afghanistan says.
"Those incidents that reach law enforcement... or receive public attention through the media due to their egregious nature represent the tip of the iceberg," it adds.
The number of incidents of violence against women reported had gone up, the report said.
However, this may reflect "increased public awareness" about such crimes and their harmful consequences, rather than a rise in the number of actual incidents.
There had been some progress in "registration and application of the EVAW law," the report said, referring to the 2009 law on Elimination of Violence Against Women.
However, the proportion of cases resolved using the law was still very low.
Cases were often referred to tribal councils called jirgas, or similar bodies, which undermined the application of the EVAW law, the report found.
Police were also reluctant to arrest alleged perpetrators with links to armed groups or other forms of influence, the authors said.
In addition, women and girls were still being wrongly prosecuted "for running away from home, often to escape violence", they said.
Related Internet Links
The BBC is not responsible for the content of external sites.