Abducted US doctor rescued in eastern Afghanistan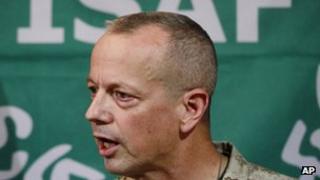 An American doctor who had been abducted by the Taliban in eastern Afghanistan has been rescued, the US-led international forces say.
Dilip Joseph, of the Morning Star Development aid group, was freed by US and Afghan forces in a joint operation that killed seven of his captors.
US commander in Afghanistan, Gen John Allen, said he ordered the mission as intelligence showed the doctor was in danger of being killed or injured.
He is said to be in good health.
The BBC's Orla Guerin, in Kabul, says Dr Joseph will undergo medical checks before returning to the United States - probably in a few days.
'Unwavering'
Dr Joseph and two Afghan colleagues from Morning Star were captured by Taliban insurgents on 5 December while returning from a rural medical clinic in the Sarobi district of Kabul province, near the Afghan capital.
Morning Star said the three were stopped and captured while driving by a group of armed men.
They were then taken to a mountainous area about 80km (50 miles) from the Pakistan border.
The two Afghans were released on Saturday evening following three days of negotiations.
In a statement Morning Star said it was "grateful beyond words for the assistance and support of many people and organisations during this event".
It also said it had "paid no ransom, money or other consideration to the captors or anyone else to secure the release of hostages".
Gen Allen praised the military cooperation between US and Afghan forces which led to Dr Joseph's release.
"I'm proud of the American and Afghan forces that planned, rehearsed and successfully conducted this operation. Thanks to them, Dr Joseph will soon be rejoining his family and loved ones," he said.
"Today's mission exemplifies our unwavering commitment to defeating the Taliban," Gen Allen added.
No details have been released about the military operation to free Dr Joseph, who is from Colorado Springs. He was taken to Bagram air base north of Kabul after being rescued.
His aid agency says he is a medical adviser who travels frequently to Afghanistan and has worked for the group for three years.
Morning Star Development is a US-registered non-profit organisation which says it aims to help the Afghan people through economic and community development.
Sarobi district was returned to the control of Afghan forces in April. French troops had been in command until then. France ended its combat operations in Afghanistan last month.