North Korea 'may delay rocket launch'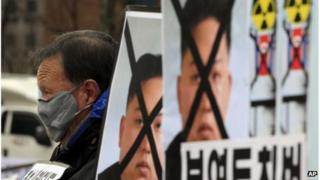 North Korean officials have said they may postpone the launch of a rocket carrying a satellite, scheduled for between 10 and 22 December.
State media gave no reason for the delay, but an expert has suggested snow might have interrupted preparations.
A previous launch in April failed when the rocket broke up after take-off.
North Korea's space programme causes panic around the region because some countries believe it is a cover for the development of a weapons system.
The US and other nations say the launch constitutes a test of long-range missile technology banned under UN resolutions.
In recent days, the US said it was moving navy ships into position to track the rocket, and Japan issued an order to its military to shoot down any rocket debris that infringed its territory.
This launch window includes two key dates - 17 December marks the first anniversary of the death of former leader Kim Jong-il and 19 December is the day of South Korea's presidential election.
A spokesman for the Korean Committee of Space Technology told North Korea's state news agency KCNA that final preparations were being made for the launch.
But he added that scientists and technicians, were "seriously examining the issue of readjusting the launching time of the satellite for some reasons".
The KCNA report gave no further details.
Satellite images of the launch site dated 4 December suggested heavy snowfall may have harmed the preparations, according to an expert on the 38 North website.