Sri Lanka chief judge Bandaranayake found guilty by MPs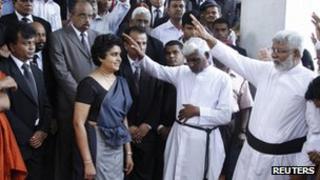 A report by a Sri Lankan parliamentary committee has found Chief Justice Shirani Bandaranayake guilty of three charges of misconduct.
She could be dismissed after parliament votes on the report in January.
Mrs Bandaranayake denies allegations of financial and professional wrongdoing. Her lawyer said it was not clear how the conclusion had been reached.
Her supporters say the government wants to get rid of her and undermine the independence of the judiciary.
US concern
The investigation was mounted after Mrs Bandaranayake ruled against several government bills, including one that gave more powers to President Mahinda Rajapaksa's brother Basil, the economic development minister.
Nimal Siripala de Silva, a government minister and member of the committee, said: "We have found her guilty of three charges out of the first five we have investigated."
He said she had been found guilty of an illicit property transaction and of failing to declare many bank accounts.
The chief justice was also convicted of being unfit to serve in office because of her potential influence over a case in which her husband is accused of bribery.
Mrs Bandaranayake's lawyer rejected the charges, saying they "will not stand the scrutiny of law".
"We can't understand how they came to these conclusions," lawyer K Neelakandan told the BBC Tamil Service.
Under parliamentary procedure, if the chief justice is found guilty of even one charge, and a majority of the 225-member house votes for her removal, the president can dismiss her.
The president's party controls a two-thirds majority in the house.
Mrs Bandaranayake has criticised the committee for giving her insufficient time to prepare her defence, failing to follow proper procedure and for concluding its report with undue haste.
She walked out of its hearings on Thursday, as did the four opposition MPs on the panel.
The US embassy in Colombo has said it is "very concerned" about the impeachment process and has demanded that the government follow the rule of law.
Tamil fears in the North
Critics say President Rajapaksa has concentrated enormous power in his hands since he crushed the Tamil Tiger separatist rebels in 2009 after a long and bloody war.
Human rights activists remain concerned about conditions in the Tamil heartland of northern Sri Lanka.
Eleven students have been arrested by the anti-terrorism division in the past few days and their teachers have warned that they face what they called a grave and dangerous situation.
In a letter to President Rajapaksa, the Jaffna University teachers say the authorities have been heavy handed in tackling festering political issues and have detained people on false pretences.
They also accuse them of failing to understand the gravity of the problems in Jaffna, the spiritual capital of the minority Tamil community.