Indonesian Minister Andi Mallarangeng resigns over graft charges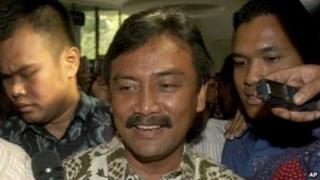 Indonesian Sports Minister Andi Mallarangeng has resigned after being named as a suspect in a multi-million dollar corruption scandal.
The Corruption Eradication Commission has accused him of mismanaging the construction of a huge sports complex in the town of Bogor in West Java.
Mr Mallarangeng has denied the allegations.
He is the first serving minister to be named as a suspect since the Commission was set up in 2003.
He was presidential spokesman before his ministerial appointment in 2009. Correspondents say his resignation will be an embarrassment for President Susilo Bambang Yudhoyono.
The president won a second term landslide victory in 2009 on an anti-corruption platform.
The commission has asked Indonesian immigration to ban Mr Mallarangeng from going abroad pending an investigation.
Announcing his resignation, Mr Mallarangeng said that he did not want to become a burden for the president and the cabinet.
"The wheels of the government must keep turning, and my personal legal matters are my responsibility," he is quoted as saying by the AFP news agency.
Corruption Eradication Commission Chairman Abraham Samad said that Mr Mallarangeng will be charged with abusing power to enrich himself or others - this carries a jail sentence of up to 20 years.