Top UN official Valerie Amos in Burma Kachin plea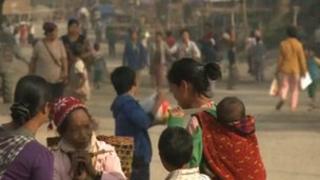 Top UN humanitarian official Valerie Amos has called for urgent access to some 40,000 people in northern Burma who have been displaced by fighting between troops and Kachin rebels.
Ms Amos said it was clear that they were in desperate need of assistance.
The Burmese military has allowed only a handful of aid vehicles into the area in the last 18 months.
Fighting flared up between the two sides in June last year when a long-standing ceasefire broke down.
Tens of thousands of people have been displaced by fighting between the Burmese army and the Kachin Independence Army over the last 20 years. There have been many reports of human rights abuses.
The conflict is being seen as one of the biggest tests facing Burma's new civilian government as it attempts to reform the country.
'Painful reminder'
"We have major problems getting to areas controlled by the Kachin Independence Army (KIA)," Baroness Amos told the BBC, "which means that we are not able to get to people who desperately need our help."
"The last time we we able to get there was in July and since then there have been reports of people there who are in major need.
"However the Burmese vice-president has assured me that he will do all he can to facilitate better access for the UN and its partner organisations."
While the authorities say they cannot guarantee the security of aid agencies in rebel areas, officials say supplies have been reaching a similar number of displaced people in government territory.
The BBC's Jonah Fisher - who is travelling with Ms Amos in Burma - says that, while the country has seen dramatic reforms, Kachin state is a painful reminder of the complexity of the problems that still remain.
In the fighting that followed the decision by rebels from the KIA to take up arms once more, about 75,000 people have been displaced from their homes to flee to both government and rebel-held land.
Most of those whose camps are in government-held territory have been helped by international aid agencies. But those in the rebel areas have not.
On Wednesday, Baroness Amos visited camps in Rakhine state where more than 135,000 people - most of them members of the Muslim Rohingya community - also live in camps.
She said the the conditions in which they were living were "dire".