Thai ex-PM Abhisit faces charges over protest death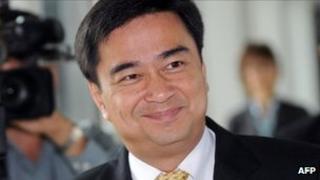 Former Thai leader Abhisit Vejjajiva faces charges over the death of a taxi driver shot by soldiers during mass protests in Bangkok in 2010.
Mr Abhisit was prime minister when thousands of protesters took to the streets of the capital demanding his government step down.
The protests, which shut down parts of Bangkok for two months, left more than 90 dead, both civilians and soldiers.
Former Deputy PM Suthep Thaugsuban also faces charges, the investigator said.
The decision came after a court ruled that taxi driver Phan Kamkong was killed by Thai soldiers during the 2010 violence.
The two face charges of "giving orders that led to the death of others with intent'', Department of Special Investigation chief Tarit Pengdith told the BBC.
They have been charged under Section 288 of the criminal code, which carries the death penalty or a lengthy jail term.
The two men will be summoned to hear the charges and face questioning on 12 December.
Barricades smashed
The "red-shirt" protesters, many of whom supported ousted leader Thaksin Shinawatra, occupied Bangkok's financial district in March 2010.
Violence flared in April when police tried to clear them from the area - after which they moved to the city's commercial heart.
They remained there until 19 May when armed government troops moved into the red-shirt camp, smashing through barricades. More than 90 people were killed over the course of the protest.
Elections held in July 2011 were then won by the party led by Yingluck Shinawatra, the sister of the ousted prime minister.
Mr Abhisit, now the leader of the opposition, and his deputy are the first officials - government or military - to face charges over the deaths. Several red-shirt leaders are to be prosecuted on terrorism charges.