Burma camp for Rohingyas 'dire' - Valerie Amos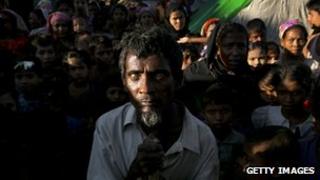 The UN's top humanitarian official has said conditions for displaced Burmese Muslim Rohingyas are "dire", and called on Burma to improve them.
Valerie Amos made the comments after visiting camps in Rakhine state.
More than 135,000 people displaced during six months of ethnic conflict are living in camps in the state, the vast majority of them Rohingyas.
The BBC's Jonah Fisher says Rohingyas are living in much worse conditions than Rakhine Buddhists.
He says a camp on the peninsula of Myebon, exclusively for Rakhine Buddhists, had smart tents, working sanitation and a regular delivery of food and medical supplies.
But a short drive up the road - past the burnt-out squares that were once their homes - some 4,000 Rohingya Muslims live crammed together on a fetid pile of mud, surrounded by streams of water filled with sewage, our correspondent adds.
There are Burmese guards on all sides to stop them leaving, he says.
"It's a dire situation and we have to do something about it," Baroness Amos told the BBC.
"Unfortunately we as the United Nations are not able to get in and do the range of work we would like to do with those people, so the conditions are terrible."
She said UN efforts had been hampered by administrative and visa problems, as well as by a lack of funding.
The UN has received less than one-third of the $65m (£40m) it says it needs for Rakhine.
Baroness Amos called for the international community to be more generous, but also said the Burmese authorities had to help with reconciliation.
She said tensions in the area remained "extremely high".
"The government also has a responsibility, they have to take the lead," she said. "They have to work to bring the communities together and that work has got to start now."
Our correspondent says Rakhine Buddhists control all the land around the camp for Rohingyas, and that bringing help is almost impossible.
This separation of communities is now seen across Rakhine, he adds.