Footballer Diego Mendieta's death prompts Indonesia row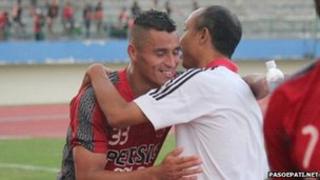 The death of a Paraguayan footballer owed months of back pay from his club in Indonesia has sparked outrage among fans and the global players' union.
Diego Mendieta, 32, is reported to have died on Monday from the cytomegalovirus - normally easily treatable with anti-viral medication.
It is thought he was owed $12,500 (£7,500) by his club, Persis Solo.
Fifpro, the global players' union, has said his death is a disgrace for Indonesian professional football.
The union has said that it will investigate the case and bring it to the attention of Fifa, the international football federation.
Mr Mendieta's club, Persis Solo, has reportedly now paid his widow the outstanding arrears.
The former manager of the club, Totok Supriyanto, told local media it had also failed to pay the salaries of other players, but stated that the club would prioritise this payment.
'Treatable' virus
The striker was taken ill earlier this year and diagnosed with the cytomegalovirus. His fans say that he was overwhelmed by his financial burden, reports the BBC's Karishma Vaswani in Indonesia.
Reports say he wanted to return home but was unable to afford it.
"He always complained of being lonely," Guntur Hernawan, the head of the internal medicine division at Moewardi Hospital in Solo is quoted as saying by Reuters news agency.
"He said he wanted to go home because all of his relatives were in Paraguay," he added.
Although the virus is easily treatable with anti-viral medication, it can get worse if the patient's immune system deteriorates
On its twitter feed, the Indonesian football players' association has said the tragedy is a reflection of the sorry state of the sport in the country and should serve as a wake-up call for authorities.
Football is extremely popular in Indonesia but the league system is in crisis, because in 2011 several clubs formed an unofficial breakaway league to rival the official one.
However some clubs in this unofficial league, which includes Persis Solo, have encountered financial difficulties and that is partly why it was unable to pay some players.
According to the Indonesian Professional Footballers Association there are 21 clubs in the country with similar problems.
The current management of the Persis Solo club has not made a public statement.