Pakistan soldiers die as suicide bombers attack Waziristan camp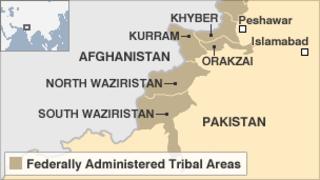 At least three soldiers died when suicide attackers tried to attack an army camp in a volatile tribal area of north-west Pakistan, the military says.
Suicide bombers targeted the Zari Noor military camp near Wana in South Waziristan, according to officials.
The army says that two suicide bombers in an explosives-laden car were spotted by sentries on duty who fired on it.
The subsequent explosion caused the roof of a building to collapse, killing the soldiers and injuring four more.
There are no journalists in the area and it is difficult to independently verify information from the area.
The attack comes just days after senior Pakistani militant leader Mullah Nazir was wounded in a suspected suicide bombing in the same region.
At least six others died, including three children, in the blast in Wana.