Japan media on Sasago tunnel collapse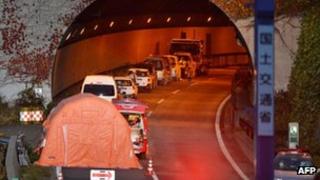 Japanese media have extensively covered the Sasago tunnel accident that killed nine people, with some speculating on what caused the ceiling to collapse.
A government inquiry into causes of the collapse of the tunnel, 80km (50 miles) from the capital, Tokyo, on Sunday, has been launched.
The Asahi Shimbun, citing police from Yamanashi prefecture, said that falling debris crushed a refrigerator truck and trapped motorists inside their vehicles.
As for the cause, the newspaper said that it "is believed to be loose bolts".
NHK World interviewed a civil engineering expert.
"Kazuo Tani, a specialist in rock engineering, says the metal fittings that held the roof panels may have deteriorated. Another possibility is that the tunnel had changed shape and caused the parts to dislodge," NHK says.
Mr Tani said that the V-shape of the tunnel's roof upon its collapse suggests that pressure may have formed in the centre, causing the panels to come off.
NHK World added that even as Mr Tani "has never seen an accident like this", it is "unthinkable for a tunnel to cave in without an earthquake".
The Daily Yomiuri Online points out that the tunnel, which opened in 1977, has been inspected every five years. It quoted the company as saying that "no problem was found with the ceiling panels" during the last inspection between September and October.
The Mainichi newspaper describes the terror of witnesses during the incident.
"Debris was all around, and it was virtually impossible to rescue anyone. Shortly afterwards, white smoke started billowing from the [crushed] vehicle," it quoted a woman at the scene as saying.
The newspaper added that questions have been raised about why the ceiling collapsed and if inspections were indeed conducted properly.