Suspect held after raid on Australia navy vessel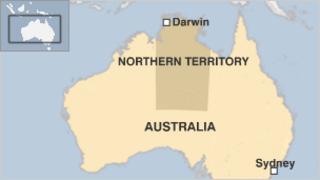 A man has been arrested in the northern Australian city of Darwin after weapons were stolen in a raid on a navy vessel.
Two shotguns and 12 pistols had been taken from a navy patrol boat moored at HMAS Coonawarra naval base at about midnight on Thursday. All the weapons have been recovered.
The attacker, dressed in military clothing and wearing a balaclava, had overpowered and tied up a sailor.
The navy has announced an inquiry into the breach of security.
'Significant result'
Northern Territory police said they had raided an apartment in Darwin at about 14:30 (05:00 GMT) on Saturday.
Commander Richard Bryson said: "This is a significant result for the Northern Territory Police and the community to recover these weapons and remove them from the streets so quickly."
The attack took place on the Armidale-class patrol boat, Bathurst.
The sailor was chained with cable ties, but had released himself to raise the alarm. He suffered only minor injuries.
HMAS Coonawarra is a key navy base, with about 600 naval personnel.
The navy has launched an investigation into the incident.
Royal Australian Navy chief Vice Admiral Ray Griggs said this was a security breach "we need to obviously look into very carefully".
He added: "There is an investigation under way from a police perspective, but I have also initiated a review of security on board our ships and establishments."