Pakistan militant leader Mullah Nazir injured in blast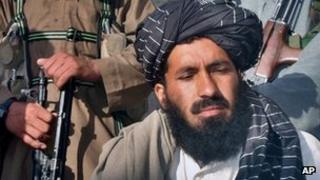 Senior Pakistani militant leader Mullah Nazir has been wounded in a suspected suicide bombing in the tribal area of South Waziristan, officials say.
At least six others died, including three children, in the blast in Wana.
A teenage boy among the dead may have detonated explosives near Mullah Nazir's car, reports say.
It is not clear who carried out the attack. Analysts say Mullah Nazir has formed an alliance with the government and opposes the Pakistani Taliban.
In the past, he has been accused of sending fighters to support the Afghan Taliban and fight foreign and pro-government troops there, rather than focusing attacks inside Pakistan itself.
Yar Mohammad, a resident of Wana who witnessed the attack, told the Associated Press news agency that the blast was huge. "I'm seeing smoke everywhere," he said.
Reports say that Mullah Nazir was only slightly injured in the blast, and that he had stepped out of the the car when the explosives were detonated.
One of his local commanders, Mohammed Noor, is reported to be in a critical condition.
There have been other attempts on Mullah Nazir's life before.
His group is one of several Taliban factions operating in Pakistan's restive north-west - in recent years there have been divisions among these groups.
In March 2007, he launched an offensive against Uzbek militants in the area. The fighting went on for weeks and 13 of his militants died as well as 20 Uzbek fighters.