China paper carries Onion Kim Jong-un 'heart-throb' spoof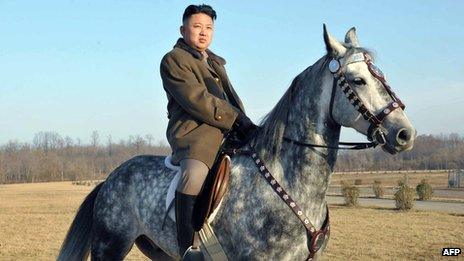 The online version of the Chinese Communist Party's official newspaper appears to have fallen for a spoof by the US satirical website, The Onion.
The People's Daily ran a 55-page photo spread of North Korean leader Kim Jong-un after he was declared The Onion's Sexiest Man Alive for 2012.
He is shown riding horses, holding children and greeting his troops.
The spread is accompanied by tongue-in-cheek quotes from The Onion about the "Pyongyang-born heart-throb".
"With his devastatingly handsome, round face, his boyish charm, and his strong, sturdy frame, this Pyongyang-born heart-throb is every woman's dream come true," the People's Daily quoted The Onion as saying.
"Blessed with an air of power that masks an unmistakable cute, cuddly side, Kim made this newspaper's editorial board swoon with his impeccable fashion sense, chic short hairstyle and, of course, that famous smile."
"I wouldn't say I'm surprised," Onion editor Will Tracy told the BBC, responding to the People's Daily feature.
"I mean, this kind of thing has happened in different forms before, so it never totally takes us by surprise, although it's a total delight whenever it does happen."
The Onion, which ran its Sexiest Man Alive piece earlier in the month, had an update to its article on Tuesday.
"For more coverage," it wrote," please visit our friends at the People's Daily in China, a proud Communist subsidiary of The Onion, Inc. Exemplary reportage, comrades."
By around midday on Wednesday, the People's Daily spread appeared to have been removed, with the link to the English version returning an error message.
Yuwen Wu of BBC Chinese says after The Onion published the spoof on 14 November, the story was picked up by the Hong-Kong based ifeng.com. It published a Chinese version on 21 November - but with readers' comments and a clear explanation about the satirical nature of the Onion site.
A Chinese website, Yangzi Wanbao (Yangtse Evening Daily), published a shorter version of the story on the same day, citing ifeng.com as the source, but without the crucial explanation about The Onion.
Guangming Daily then carried the story on 26 November, quoting the Yangtse Evening Daily. The People's Daily in turn published the story on 27 November, citing Guangming Daily as its source.
The Onion said previous winners of its Sexiest Man Alive prize included Syrian President Bashar al-Assad and US financial swindler Bernard Madoff, who is currently serving a 150-year prison sentence.
Two months ago, Iran's semi-official Fars news agency was forced to apologise after being taken in by a spoof news item from The Onion which declared rural Americans preferred Iranian President Mahmoud Ahmadinejad to US President Barack Obama.
It quoted one fictional West Virginian resident as saying he would rather go to a baseball game with Mr Ahmadinejad because "he takes national defence seriously".