India journalists held for Jindal Group 'extortion'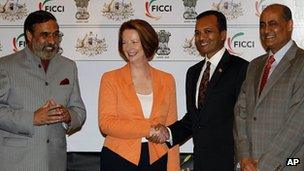 Two senior journalists at Indian television channel Zee News have been arrested on charges of extortion.
Sudhir Chaudhary, head of news, and Samir Ahluwalia, head of business at the channel, are accused of trying to extort millions of dollars from the Indian business firm Jindal Group.
They are alleged to have sought cash in exchange for not running reports on a coal scam linked to the firm.
Both the journalists and the channel have vehemently denied the charges.
Zee News called the arrests "a crude and direct attack on the freedom of the press".
They have threatened to launch a defamation case against Naveen Jindal - managing director of the Jindal Group and a politician with the governing Congress Party - who, along with his officials, made the complaint.
The two journalists are accused of asking Jindal officials for about $18m (£11m) in exchange for suppressing news reports about the firm's alleged links to a high-profile corruption scandal involving the allocation of coal mining concessions.
The officials say they secretly filmed the meetings, and released the footage last month.
Mr Chaudhary called the allegations a "fabrication" and described them as "pressure tactics" to prevent the channel from running any investigative stories.
"We have done a series of stories on coal scams based on official papers," he is quoted by the Indian media as saying. "This is a retaliation for our relentless campaigning against corruption."
The arrest of senior journalists is extremely unusual for India.
Analysts say that, whatever the truth, it is likely to lead to a wide debate about media ethics and the relationships between editors and the world of business.
Related Internet Links
The BBC is not responsible for the content of external sites.