S Korea drops Petraeus-case woman Jill Kelley as consul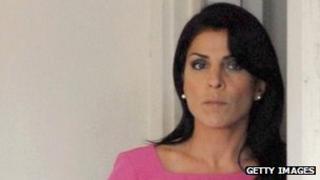 South Korea is to relieve a US woman embroiled in the scandal that felled CIA director David Petraeus of an honorary position, officials say.
Florida socialite Jill Kelley was named an honorary consul for Seoul in August.
It was her complaint to the FBI over threatening e-mails that ended up exposing an affair between Gen Petraeus and his biographer, Paula Broadwell.
A South Korean official said it was not appropriate for Ms Kelley to carry out her duties because of the scandal.
"We're following the necessary procedures for relieving her from the post as it's not suitable for her to carry out her duties because of the scandal," the foreign ministry official told AFP news agency.
A report by Yonhap news agency late on Monday quoted Deputy Foreign Minister Kim Kyou-hyun as saying Ms Kelley had sought to use her title for personal gain.
"It's not suitable to the status of honorary consul that [she] sought to be involved in commercial projects and peddle influence," the agency quoted him as saying while on a visit to the US.
South Korea has 15 honorary consuls in the US, reportedly paid $2,500 (£1,560) a year to promote the country.
The role does not come with diplomatic immunity, but reports said Ms Kelley had cited diplomatic protection in a call to police to complain about journalists trespassing on her property.
The CIA is currently conducting an investigation into the conduct of Gen Petraeus.
The inquiry has also ensnared the US and Nato commander in Afghanistan, Gen John Allen, who is under investigation for sending what officials describe as "flirtatious" emails to Ms Kelley.
Gen Allen denies wrongdoing.