South Korea poll campaign kicks off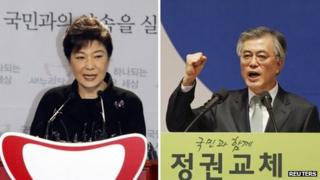 Formal campaigning is under way in South Korea for what looks set to be a tight presidential election.
Park Geun-hye of the ruling conservative Saenuri party faces Moon Jae-in of the liberal Democratic United Party in the 19 December polls.
A third main candidate, independent Ahn Cheol-soo, dropped out of the race late last week and threw his support behind Mr Moon.
Opinion polls put the two candidates neck and neck with three weeks to go.
President Lee Myung-bak is stepping down, as the law requires he must after serving one five-year term.
Split vote fear
Ms Park, 60, who is aiming to become South Korea's first female president, had been seen as the front-runner until Mr Ahn bowed out.
His move followed lengthy talks with Mr Moon, amid concern that splitting the opposition vote between two candidates would hand the ruling party a win.
The daughter of former military strongman Park Chung-hee, Ms Park apologised in September for human rights violations committed during her father's rule.
Her father led South Korea from 1961 until he was assassinated by his own spy chief in 1979.
Mr Moon, meanwhile, was jailed in the 1970s for protesting against Park Chung-hee's administration.
A human rights lawyer, he served as chief of staff to Mr Lee's predecessor, Roh Moo-hyun, the liberal president who later killed himself amid a corruption probe.
The economy that is the key issue in the race. Both candidates have promised to boost social welfare spending, amid rising income inequality and concern over the dominance of big business in the form of South Korea's family-run giant conglomerates, known as chaebol.
Both candidates have also promised better ties with North Korea. Mr Moon says he will reverse Mr Lee's policy of linking aid to progress on denuclearisation.
The BBC's Lucy Williamson, in Seoul, says that with some seeing this election as a referendum on past presidents, it may be the country's youngest voters who decide the result.
Launch reports
The start of presidential campaigning in South Korea comes amid reports that North Korea could carry out a long-range missile test in coming weeks.
Commercial satellite operator DigitalGlobe said that new images showed noticeable movement at North Korea's Sohae Satellite Launching Station.
The current activity, involving movement of equipment and trucks, is consistent with what was observed before the North's failed missile launch in April.
Pyongyang said the launch was aimed at putting a satellite into orbit, but it was widely criticised by the US, South Korea and Japan as a banned test of long-range missile technology.