Second Pakistan bomb targets Dera Ismail Khan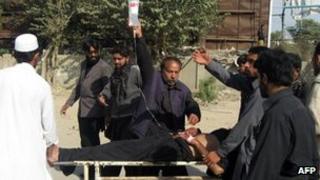 Five people were killed and dozens more wounded when a bomb exploded near a Shia Muslim procession in north-west Pakistan.
It was the second bombing in the city of Dera Ismail Khan in as many days. The Taliban said it was responsible.
On Saturday, eight people died, seven of them children, when a roadside bomb went off close to another procession.
Dera Ismail Khan is a stronghold of Sunni militant groups who see Shia as non-believers.
The bomb on Sunday went off in a shop close to a street market as worshippers passed by, witnesses said.
As with the previous attack, children were among the dead, provincial officials said. At least 40 other people were wounded, including members of the security forces.
TV footage showed the wounded being taken to hospital and a doctor told Pakistani media that the number of fatalities was likely to rise because of the severity of some of the injuries.
Most of the victims of Saturday's attack were Sunnis. One Taliban spokesman said it had carried out the bombing, but on Sunday another denied it had been responsible.
There are fears of further bloodshed in Pakistan, as Shia Muslims mark Ashura, the climax of the holy month of Muharram, the BBC's Orla Guerin reports from Islamabad.
Tens of thousands of police and paramilitary forces have been deployed around Pakistan as Sunni militants warn of further attacks.
Shia Muslims whip themselves in Ashura processions to mourn the killing of the Prophet Mohammed's grandson Imam Hussein in the seventh century.
Mobile phone coverage has been suspended in several Pakistani cities because of several earlier bombings detonated by mobiles.
However, the Dawn newspaper reported that mobile services were still available in several parts of Pakistan's northwestern Khyber Pakhtunkhwa province, including the city of Peshawar.
Saturday's attack was reportedly triggered by TV remote control and reports said a remote controlled device was also used in the latest bombing.
Khyber Pakhtunkhwa Information Minister Mian Iftikhar Hussain told Dawn that security had been stepped up after Saturday's blast and the road had been searched before the latest procession.
But, he said, the bomb was believed to have been planted earlier in a cycle shop.