Burma firm gets TV rights for top flight English football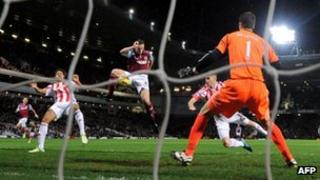 A Burmese TV station has bought rights for the English Premier league football games, benefiting from the easing of sanctions against the Asian country.
Burma's SkyNet will now show all the matches in the next two seasons.
"SkyNet is delighted to be able to offer the world's most followed football league to its viewers," company chief Daw Myint Myint Win said.
The amount SkyNet agreed to pay for the rights to broadcast the games was not revealed.
Some football analysts suggest that the overall value of Premier League TV rights could top £5bn ($8bn) for the three seasons starting in 2013-14.
Matches of England's elite football league are very popular in many Asian countries and across the world.
Burma's military-backed civilian government launched a reform process in 2010.
In response, many Western nations have relaxed sanctions and begun a process of engagement with Burma.
But rights groups have cautioned against a rush to embrace the South East Asian nation, warning that a number of political prisoners remain behind bars and ethnic conflicts are unresolved.