Afghanistan bomb: 'Two die' in Wardak suicide blast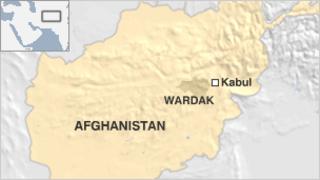 A suicide car bomber has killed at least two people and injured 40 others in Afghanistan's Wardak province, officials say.
Police said the bomb was detonated near a security centre in the provincial capital, Maidan Shar.
The victims of the attack are said to include women and children.
The Taliban said they carried out the attack, with a spokesman saying it was to avenge the execution earlier this week of four Taliban detainees.
It said that the four were among 14 prisoners hanged in recent days.
At the time of the hangings officials told the BBC that most of those hanged were criminals, but they included several insurgents who had organised deadly suicide attacks in the capital, the BBC's Bilal Sarwary reports.
The blast in Wardak comes just two days after two Afghan security guards were killed and three wounded in a suicide attack in a heavily-fortified area of Kabul.
Nato troops are due to hand over security responsibility to local forces in 2014, as coalition combat forces withdraw from Afghanistan.