Japan names new ambassador to China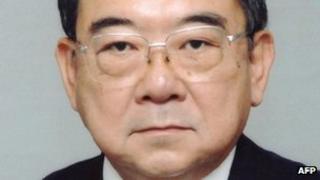 Japan has named a new ambassador to China, weeks after the previous envoy died before he could take up the post.
Career diplomat Masato Kitera, 59, will be sent to Beijing next month, local media said.
His appointment comes with ties between the two sides severely strained by a row over islands in the East China Sea that both sides claim.
Shinichi Nishimiya was appointed in to the post in September but then died of a heart attack two days later.
The outgoing envoy, Uichiro Niwa, has been standing in as acting ambassador in the interim.
Relations between Tokyo and Beijing have been derailed by the row over islands called Senkaku in Japan and Diaoyu in China. Japan controls the islands, which Taiwan also claims.
Japan bought three of the islands from their private Japanese owner in September in what it said was a bid to block a more provocative purchase plan involving the right-wing former Tokyo governor.
China has been angered by the move, which also sparked anti-Japan protests in some Chinese cities and hit trade ties.
Mr Kitera, who joined the Foreign Ministry in 1976 and was previously serving as assistant chief cabinet secretary, is not a Chinese speaker, Kyodo News agency said.
He will take up the role as Japan heads into a general election likely to result in a new government.
Shinzo Abe - who last month angered regional neighbours with a visit to the controversial Yaskuni Shrine - leads the party expected to win the most seats.
The former Tokyo governor, Shintaro Ishihara, has also formed a political party to contest the elections.