Afghanistan criticised for spate of executions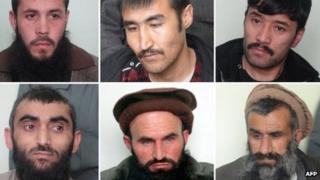 Six prisoners have been hanged in Afghanistan, bringing to 14 the number of executions in the past two days, officials say.
Human rights groups have condemned the hangings as cruel and inhuman. They have raised concerns about the safety of some of the convictions.
Executions have been rare since the Taliban fell in 2001.
Officials told the BBC that those hanged were criminals, not militants linked to the Taliban or al-Qaeda.
They say all of them had been found guilty of serious offences including rape and "crimes against the people, especially women and children".
The move is likely to please many Afghans who complain that serious crime is on the rise and argue that the use of the death penalty is a necessary deterrent.
'Culture of impunity'
Reports say there have been only two executions in Afghanistan in the past four years - it is not clear why there have been so many this week.
President Hamid Karzai - who has the power to stop people from being hanged - approved the executions, his spokesman said.
Correspondents say he may have been under pressure to act, with more than 250 inmates on death row.
A further eight condemned prisoners are due to be put to death on Wednesday or Thursday, officials told the Reuters news agency.
The BBC's Bilal Sarwary in Kabul says there are people inside President Karzai's government - especially senior security officials - who want to see more hangings. They have long complained about what they see as a culture of impunity for people they regard as terrorists and criminals, our correspondent says.
Rafi Ferdous, a spokesman for Afghanistan's Council of Minister's Secretariat, defended the executions. He argued that the rule of law was being implemented.
But Human Rights Watch Asia Director Brad Adams said that the eight hangings on Tuesday were "a terrible step backwards for Afghanistan". Mr Adams called on the president to stop future executions and commit to a formal moratorium.
"The death penalty is an act of cruelty that should never be used," Mr Adams said.
Amnesty International Asia-Pacific Deputy Director Polly Truscott said the hangings were "the ultimate form of cruel and inhuman punishment".
"Detainees are frequently tortured into confessions and relied on by a judiciary that has little to no independence... There is simply no guarantee of a fair trial," she said.
A spokesman for the Taliban - who are notorious for executing people in public in areas they control for "crimes" including adultery - also condemned the executions, describing them as a breach of prisoners' human rights.