Taliban bomber kills Pakistan Shia marchers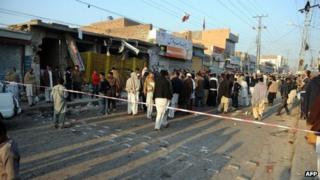 A Taliban suicide bomber killed at least 23 people at a Shia Muslim procession in the Pakistani city of Rawalpindi, police say.
The bomber targeted marchers as they approached a mosque near the city centre. Another 62 people were hurt.
Blasts earlier on Wednesday outside a Shia mosque in the southern city of Karachi killed at least two people, and a bomb in Quetta left five dead.
The bombings come as Shias mark the holy month of Muharram.
First reports from Rawalpindi said 10 people had died in the attack late on Wednesday night, but officials raised the figure on Thursday morning.
Police rescue spokeswoman Deeba Shehnaz said several people who were critically wounded had died in hospital.
Police say they attempted to stop and search the bomber who then blew himself up. The force of the blast ripped a hole in the wall of the mosque.
"It was like the world was ending," one of the victims, Nasir Shah, was quoted as saying by Associated Press.
The Pakistani Taliban said they carried out the attacks in Rawalpindi and Karachi. Attacks on Shia by hardline Sunnis have increased in recent months in Pakistan.
Karachi, where the mosque was apparently targeted, has a long history of sectarian tensions. A second blast there left at least seven people wounded, police official Javed Odho said.
Correspondents say the authorities are braced for more violence as Muharram reaches its climax this weekend.
The attack in Quetta did not have a sectarian motive. Police say the remote-controlled bomb exploded near a security vehicle escorting schoolchildren.
Three of those killed were soldiers. Two civilians also died. About 30 people were wounded, some of them critically.
"The target was an army vehicle which was escorting a school bus carrying children of local army officers from different schools," Quetta city police chief Hamid Shakeel told the AFP news agency.
Quetta is the capital of the south-western province of Balochistan, where a separatist insurgency is being waged by ethnic militants demanding more autonomy and a greater share of natural resources.
Pakistan's military also has troops in the province engaged in a long-running battle against militants in tribal areas near the Afghan border, including the Taliban and armed groups who support them.