Suicide bomber kills two in central Kabul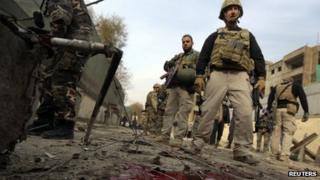 Two Afghan security guards have been killed and three wounded in a suicide attack in a heavily-guarded area of Kabul home to foreign embassies and Nato HQ, police say.
Two other people were injured in the blast in the Wazir Akbar Khan neighbourhood.
Police told the BBC that the attacker detonated his explosives near one of the entrances to a US military base.
The Taliban said that they were behind the attack.
Kabul police chief Ayub Salangi told the BBC that the attacker had been shot and killed by the security guards, but not before he managed to detonate some of his explosives.
"The attacker wanted to get into a building under construction, and this is when he was shot by security forces,'' Gen Salangi said.
The BBC's Bilal Sarwary in Kabul says that the attack on Wednesday morning in the heart of Kabul raises several questions, including how the attacker managed to get inside one of the most secure and heavily guarded areas of the city.
The attack came as foreign and Afghan forces tightened security in Kabul ahead of the holy day of Ashura on Saturday, when Shia Muslims commemorate the 7th Century death of Imam Hussein, the Prophet Muhammad's grandson.
This time last year, a suicide bomber on foot killed at least 56 people at a Shia shrine in the city. More than 160 others were wounded, many of them later succumbing to their injuries.
Correspondents said it was the first major sectarian attack in Afghanistan since the Taliban were driven from power in 2001.