France ends Afghan combat mission early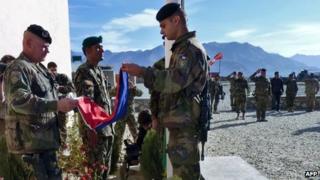 French troops have pulled out of north-eastern Kapisa province, ending their combat operations early in Afghanistan.
About 400 French soldiers left Kapisa after a handover ceremony with Afghan troops. They are expected to return home by the end of the year.
Their departure comes two years before others in the Nato-led force withdraw.
French leaders made the decision after a series of killings, including an attack by an Afghan soldier in January which left five French soldiers dead.
In all, 88 French soldiers have been killed over the past decade in Afghanistan, most of them in Kapisa.
"Today is the end of our forward operations. By the end of the year, we will have 1,500 French troops remaining in Afghanistan in non-combat operations," said French spokesman Lt Col Guillaume Leroy.
Of those remaining, about 1,000 will focus on returning military equipment to France, while 500 will train Afghan troops, he said.
France joins Canada and the Netherlands in ending its combat role in Afghanistan. Most Nato forces are due to leave by the end of 2014.
After the January attack in Kapisa, then-President Nicholas Sarkozy announced France would end its combat mission in 2013.
The man who beat him in elections this year, Francois Hollande, fulfilled a campaign pledge to bring that forward to the end of 2012.