US President Barack Obama in South East Asia visit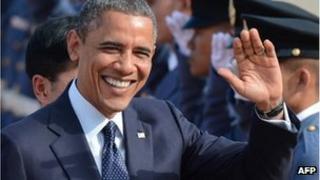 Barack Obama has begun a tour of South East Asia, which will include a historic visit to Burma.
Mr Obama landed in Thailand's capital Bangkok on his first foreign trip after his re-election as president.
On Monday he will become the first US president to visit Burma, which has been praised in the West for freeing hundreds of political prisoners and holding its first contested election.
Mr Obama has been trying to refocus US foreign policy towards Asia.
Analysts say the US is trying to counter the dominating influence of China in the region.
But US officials have repeatedly insisted that they want to work with China.
During his Thailand visit Mr Obama will meet Prime Minister Yingluck Shinawatra and King Bhumibol, the world's longest-serving monarch.
In Burma, he is due to hold talks with President Thein Sein and opposition leader Aung San Suu Kyi.
Over the past year the US and other Western nations have relaxed the slew of sanctions they had imposed on Burma, which was ruled by a brutal military regime for five decades.
But Mr Obama's aides told reporters aboard the president's plane that the US still had concerns about the extent of recent reforms.
Ethnic conflicts remain unresolved, including an increasingly bitter confrontation between Muslim Rohingyas and Buddhist Rakhine people in Rakhine state.
And US officials said they had been seeking assurances that Burma had distanced itself from North Korea, after accusations emerged in 2010 that the two states were sharing nuclear technology.
Some human rights groups have criticised the president for rewarding Burma, even though reforms are nowhere near complete.
Burma has released hundreds of political prisoners but still holds about 300, according to rights groups.
In an amnesty last week some 450 prisoners were freed, but none were on the list of political detainees.
After visiting Burma, Mr Obama will head to Cambodia to join a meeting of the regional bloc Asean.