Bangladesh slum fire kills at least 11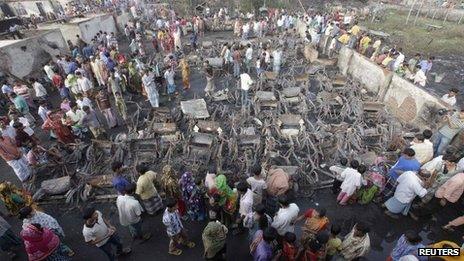 At least 11 people have been killed in a fire in a shanty town outside the Bangladeshi capital Dhaka.
The fire broke out in the early hours of the morning in the densely populated area, destroying more than 500 homes.
Officials said five women and four children were among the dead, while others were seriously injured.
The cause of the fire is still being investigated, but initial reports suggest a cigarette or mosquito coil may be to blame.
The BBC's Anbarasan Ethirajan in Dhaka said the flames spread rapidly across the neighbourhood, where homes are mostly shacks made of tin, bamboo and plastic sheets.
The shanty town is home to low-income people such as labourers and rickshaw-pullers, many of whom have now been left homeless.