Afghanistan: How will all the sacrifice be remembered?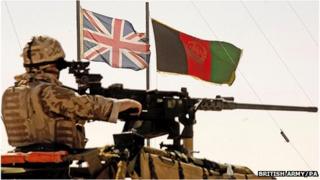 Nearly all of the 9,000 UK troops still stationed in Afghanistan will be brought home over the next two years. The BBC's defence correspondent Caroline Wyatt has just returned from Helmand Province and says there are conflicting messages about what can still be achieved in the months to come.
A lone Afghan policeman stands silhouetted on a rocky outcrop, above a fort cut deep into the Afghan stone. Legend has it that this fort - in the hills of Nahr-e-Saraj - was built by Genghis Khan, when his armies swept across Afghanistan.
The entrances that cast jagged black shadows onto the rocks below stand empty, the men who once guarded them long since dust and ashes. It is said that British armies, too, used this fort in their earlier Afghan wars. And now it looms silently - once again - over another army preparing to leave.
Beneath it, with a spectacular view over the fertile Helmand river valley, is a new local police checkpoint, built with mud walls and high towers. It overlooks a landscape that seems to have changed little over the ages - high compound walls surrounded by farmers' fields. Only a tarmacked road and the distant sound of a motorbike give clues to the centuries that have passed.
The Afghan policemen at the checkpoint are local men, recruited to stand watch over their own villages. Some are little more than adolescents. But all handle their weapons with the ease of young men who have been armed since childhood.
We meet them on their last day of training by the Royal Marines of Delta Company, 40 Commando. They are mentoring the group for the last time before the checkpoint is handed over to the Afghans for good.
"They're ready," says Corporal Will Patten, a Marine who has served on many operations here, and even survived cancer to return on this tour of duty. "We've done our bit for progress."
For now, these local policemen are paid by - and are loyal to - the Afghan government. Their commander, Abdul Ahad, has the confident air of a man who has survived a lot of fighting.
His eyes crinkle against the sun and he pauses to think, when I ask him what it is like here.
"The situation in this area is good," he says. "There are some Taliban bombs, but we find most of them before they go off.
"The locals can farm, and if the government helps us by building roads and schools and hospitals, we'll be fine. The enemy won't want to fight with us, and people will support the government. But if the government doesn't help us - and the Taliban do - then people will support the Taliban."
He and the officer commanding the Royal Marines shake hands, as they agree the handover of the checkpoint.
"Our relationship with British troops here is very good," the police chief tells me. "We've had many different commanders here over the years. And when the British go, if we get enough ammunition and weapons, we can carry on fighting for our country by ourselves."
That same day, I spend time with the men of the First Battalion the Royal Regiment of Scotland. They are playing a friendly football match with soldiers from the Afghan Army, body armour off and weapons laid down.
I ask the young lieutenant, Sandy Stewart, if he trusts the Afghans soldiers they are advising. "You can never 100% trust anyone, but we're extremely comfortable with these guys," he replies, gesturing to the football match going on noisily behind him.
But as we speak, I notice a British soldier standing watch over us, his rifle at the ready, carefully scanning the base. He is what is known as a "guardian angel", protecting his comrades from the increasing threat of insider attacks. Trust only goes so far.
I think of that when we hear that an Afghan soldier has shot dead Captain Walter Barrie, from that same regiment, after a similar football match in Nad Ali. The mood at the British headquarters is grim.
"What more can we do to stop this?" asks one British officer in despair. "This is a country with a collective case of post-traumatic stress, where killing has become the way to settle disputes."
The next day we talk to an Afghan general, Sayed Malook, who says he is heart-broken by the killing and wishes he could speak English so he could tell Captain Barrie's family how deeply sorry he is. His soldiers are strictly vetted, he insists, and they are told that murder is wrong. But the world, he says, is like a jungle, with good and bad everywhere.
The general and many others here are preparing for the day that Nato forces leave. Captain Abdul Manan, the young Afghan army commander in Nahr-e-Saraj, shrugs when I ask him what he thinks will happen when the UK troops go.
"There are two groups of people who are fighting in Afghanistan," he says wearily. "One group is fighting for religion and the other for power. When Nato goes, the people fighting for religion will stop but those fighting for power will carry on. "
And as we leave Helmand, I wonder what will survive of the sacrifices made - and the blood, sweat and tears expended - in this unforgiving landscape. And whether future generations here will look up from their fields sometimes at sunset, at the mud forts and checkpoints built in these final years, and think for a minute or two of the men who fought and died so far from home.
How to listen to From Our Own Correspondent:
BBC Radio 4: A 30-minute programme on Saturdays, 11:30 GMT.
Second 30-minute programme on Thursdays, 11:00 GMT (some weeks only).
Listen online or download the podcast
BBC World Service:
Hear daily 10-minute editions Monday to Friday, repeated through the day, also available to listen online.
Read more or explore the archive at the programme website.