Cocaine haul and corpse found on yacht off Tonga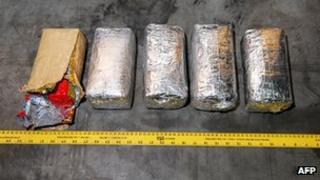 A decomposed body and 200kg (440lb) of cocaine have been discovered on a grounded boat off the coast of Tonga, police say.
The drugs, which were hidden in the hull of the 13m yacht, were estimated to be worth up to A$116m ($120m; £75m).
Law enforcement agencies had been informed that the drug-filled vessel was on its way from South America, Australian police said.
Tongan coroners are examining the body to investigate the cause of death.
'We have considerable information about who's involved [in the drug trafficking], but we are struggling to identify the deceased person on board," Tongan police commissioner Grant O'Fee told Radio New Zealand.
"There's nothing to suggest at this point that there's foul play involved in his death. An autopsy examination will be carried out over this weekend, but I don't anticipate it's going to be an easy examination, for obvious reasons," he added.
The US Drug Enforcement Administration alerted the Australian Federal Police (AFP) in August that a yacht travelling from Ecuador to Australia was carrying cocaine.
International law agencies were tracking the boat, but lost contact in October.
The yacht, called "JeReVe", was eventually found shipwrecked on the Tongan island of Luatatifo.
It was carrying 204 blocks of cocaine destined for the Australian market, a police spokesman said.
In a statement, the AFP said that investigations into the death and attempted importation of drugs were ongoing.