Pakistan releases Afghan Taliban members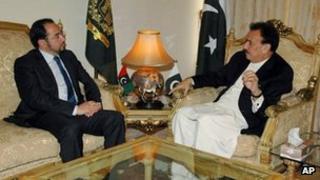 Pakistan has freed 13 Afghan Taliban members, Afghan officials say.
They said the most senior of those released following talks in Islamabad with Afghan peace negotiators is Anwar ul-Haq, a former militant commander in eastern Afghanistan.
The others are believed to be mid-level operatives. Former Taliban justice minister Mullah Turabi, who was expected to be freed, remains detained.
It is unclear what impact the releases might have on peace efforts.
The BBC's Bilal Sarwary in Kabul says four of the Taliban were freed on Wednesday, during negotiations between Pakistan and the Afghan High Peace Council, and nine on Thursday, after talks were extended by a day. The location of the freed detainees has not been disclosed.
Afghan officials have long lobbied for the release of Taliban prisoners by Pakistan in the hope that direct contacts with insurgent commanders could boost peace talks.
Since the Taliban pulled out of preliminary negotiations with the US in March, there has been little sign of movement in any push for peace.
Afghan government sources said on Wednesday that they expected Pakistan to free more Taliban prisoners, although this would depend on this week's releases having a positive impact.
Those still held by Pakistan include the former Taliban number two, Mullah Abdul Ghani Baradar.
Afghan officials had said on Tuesday that Mullah Turabi would be among those freed, hoping he could bring field commanders into talks. But one Taliban commander told the BBC he no longer had any influence over the movement.
A political settlement between the Afghan government and the Taliban is widely seen by observers as the most effective way of delivering stability to Afghanistan before most Nato troops withdraw at the end of 2014.
The 70-member peace council was set up to open negotiations with the Taliban, but has consistently failed to woo any senior figures away from the insurgency.
Both Afghan and US officials have often accused Pakistan of backing insurgents as its proxies in Afghanistan to counter the influence of its rival, India - a charge Pakistan has denied.