Kabul rocket attack kills one in Afghan capital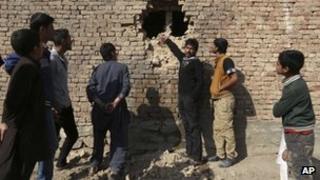 At least one person has been killed and several injured in a rocket attack on the Afghan capital, Kabul, police say.
Security officials say insurgents positioned launchers on the outskirts of the city and fired off at least three rockets.
One rocket landed near the airport, another hit a police checkpoint and a third landed near a private television station, reports say.
No group has said it carried out the attack.
Rocket attacks in Kabul are relatively rare, although the city has long been a target for militants.
In April, dozens of people were killed as militants launched a brazen attack on several sites in the centre of the city.
Nato is gradually handing responsibility for security to Afghan forces, ahead of the departure of combat troops in 2014.