Japan high court clears Ichiro Ozawa of funding case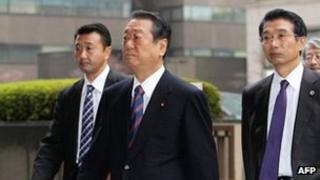 A high court has cleared influential Japanese politician Ichiro Ozawa of wrongdoing in connection with a political funding case.
The Tokyo high court upheld a lower court ruling that Mr Ozawa did not violate political fundraising laws.
He had been accused of failing to report a 400m yen ($5m, £3.14m) loan to his political fund management body.
The money was to be used to facilitate a 2004 land deal, but Mr Ozawa said he was unaware of the technical mistake.
High Court Judge Shoji Ogawa upheld the acquittal of Mr Ozawa - dubbed Japan's "shadow shogun" because of the backroom power he wields - by a lower court in April. The prosecution had challenged the verdict.
Mr Ozawa, 70, used to have the largest faction in the ruling Democratic Party (DPJ) and is considered one of the most powerful men in Japanese politics.
He left the DPJ to form his own party in July after criticising Prime Minister Yoshihiko Noda's plans to raise the sales tax.
General elections are expected in coming months - possibly even before the end of the year.