Afghan attack kills newborn baby and mother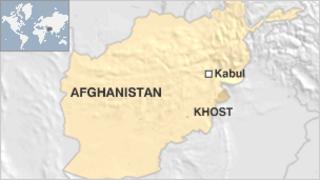 A mother and her newborn baby were among six people killed when a roadside bomb exploded in eastern Afghanistan, officials have said.
The bomb hit a group returning home from hospital, striking their vehicle as it travelled through Khost province, on the Pakistan border.
Taliban insurgents frequently use roadside bombs to target security forces in Afghanistan.
The same roads are used by civilians who often become the victims.
Two more women and two men were also among those killed in Sunday's attack, AFP reports.
"A pregnant woman was taken by her family to a hospital last night at 10pm, and they were making their way home in the morning with their newly born baby when the bomb hit," Zarmaeed Mokhlis, governor of Khost's Sabari district, told Reuters.
A Taliban spokesman said the group was aware of the Khost incident, the news agency reports, but could not immediately confirm or deny involvement.
According to the United Nations, some 1,145 civilians were killed in Afghanistan in the first six months of the year.
It blames 80% of these deaths on insurgents, with more than half caused by roadside bombs.