Twelve escape from Nepal prison in Jhumka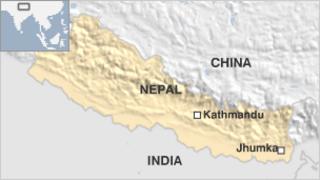 Twelve inmates have escaped after digging a tunnel out of a jail in the south-east of Nepal near the border with India, prison officials say.
Many of those who escaped on Thursday night were convicted for serious offences including murder, drugs trafficking, kidnapping and extortion.
The breakout took place at a prison in the town of Jhumka in Sunsari district.
An inquiry into the incident has been initiated at the 600-inmate jail.
The prisoners are thought to have used tools available in the prison to dig a 25m (82ft) tunnel.
A BBC correspondent in the region says that one man, Ashraf Ali from India, featured on Interpol's most-wanted list before his arrest and conviction for forgery.
Officials say that several other prisoners who broke out were also Indian and will try to take advantage of the jail's proximity to the border.
Correspondents say that while there were several jail breakouts by Maoists during Nepal's civil war from 1996-2006, there have been few mass escapes since then.