Malala Yousafzai: Schoolgirl friend recalls terror of shooting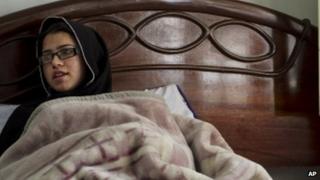 A global "day of action" for girls' education is under way, declared in the name of Malala Yousafzai, the Pakistani schoolgirl campaigner shot by the Taliban last month. The BBC's Shaimaa Khalil spoke to a friend of Malala's who was also injured in that attack.
"It was mayhem," recalls Kainat Riaz of the day when her friend Malala was shot while they were on on their school bus last month in Pakistan's Swat valley.
She says that her memories of that day are dominated by the sense of confusion and fear.
Kainat received a bullet in her hand and Malala was shot in the head.
'Everyone was screaming'
"First we thought it was a joke, when he [the gunman] entered the bus and asked 'where's Malala, who is Malala?' - but anyone can recognise her because we used to cover our faces but she never did.
"The moment she said 'I'm Malala' he opened fire and with one bullet she was down," she told the BBC World Service Outlook programme.
"It was a very terrifying and scary situation when he opened fire.
"When Malala went down he was still there and I got a bullet in my hand.
"I was just holding my hand and after that nothing was making sense to us. It was happening so quickly.
"Everyone was screaming. People started crying. The driver realised what was happening so he didn't stop and tried to make a getaway."
Showing considerable courage he drove the injured girls to hospital. Another friend of Kainat's - apart from Malala - was also shot and injured.
Kainat remembers pleading to see her father on that terrible journey before she fainted. She does not recall what happened after that.
The schoolgirl is now back home where she is recovering from her hand injury. Malala is now being treated at a hospital in the UK.
Malala was widely known as a campaigner for girls' education in Pakistan.
In early 2009 she wrote an anonymous diary for BBC Urdu about life under the Taliban, who had banned all girls in her area from attending school.
'Nightmare'
Kainat's father, Riaz , said he heard what happened from her mother and uncle and went straight to the hospital.
"Her shawl and her trousers were covered in blood," he said.
"I was worried that she got shot in the stomach too.
"One thing was going through my mind. Will she survive? It was worse than a nightmare."
When Kainat woke up in hospital she was in a state of panic. She recalls crying for hours.
"People in the hospital wanted me to stay for treatment but I was scared and wanted to go home," Kainat said.
"But I said 'no!' I want to be with my mom and dad and I just left."
She remembers being scared that the attacker may come for her in the hospital.
"That's exactly what was going on in my mind. I literally ran for my home," she said.
Back in her house, Kainat is still recovering. She says that despite the guards outside her family home she still does not feel completely safe.
"I have not been out of the house. There's something in my mind stopping me. I don't feel free to go out.
"My grandmothers both say 'come stay with us'. It's strange, I used to love going but I can't go now, I'm still scared."
Back to school
One of the hardest things for Kainat now is not to think of what happened that day.
"One my aunts was on the same bus and she visited me. I also spoke to the other girl who was injured.
"Whenever we talk we go over what happened. We remember it but our parents say just forget it.
"When I remember it all, I cry. I cry and I can't stop."
But despite all her fears, Kainat went back to school to receive warm welcomes from teachers and students.
"I want to be a doctor. I can't do that unless I go to school."
Her father, a teacher, believes that education is the only route for Kainat and her colleagues.
"Education is our destiny and we must make an effort to educate our girls even more than the boys," he says.
Speaking of her friend Malala, Kainat said that she shared what she wrote about girls' education and other matters with her friends.
"The interesting thing was that although she was scared she still [kept on] writing.
"That gave us the courage not to be scared of anything. She made us powerful."
Kainat had one last message to her friend.
"Malala please be happy," Kainat pleads.
"Have a speedy recovery; I'd like to see you healthy again. So, head up and stay strong. Come back so we can go to school together."