Pakistan attack: Karachi suicide bomb 'kills three'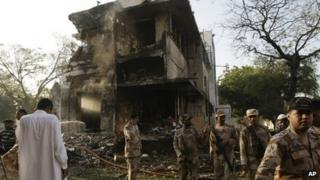 At least three soldiers were killed and many others injured in a suicide attack on a paramilitary base in the Pakistani city of Karachi, officials say.
The bomber rammed an explosives-laden truck into the entrance of the Rangers camp in the early hours of the morning.
No group has said it carried out the attack. The Taliban have targeted security bases in Karachi before.
The bombing coincided with a high-profile annual defence equipment exhibition in the southern city.
The blast was heard across a large area and images from the site showed a scene of destruction, including a building with its facade ripped off.
Witnesses said they saw the truck break through an outer gate and then explode after hitting a tree inside the compound.
The blast sent plumes of smoke into the air, and caused traffic jams during the early rush hour.
One official told the AFP news agency that tight security at the base prevented the attack being more deadly.
"It seems it was a suicide attack. The vehicle exploded before the gate of [the] Rangers' complex because it could not enter inside due to high security," Fayyaz Lagahari said.
Last year, suspected al-Qaeda militants carried out a 16-hour assault on a naval base in the city, which killed at least 10 people.
Karachi has long suffered outbreaks of violence, either carried out by the Taliban or because of turf wars between rival political groups.
Hundreds of people have been killed in such attacks in the city this year - at least 800 people died in politically motivated attacks last year.