Nepal man cleared of Japan murder after 15 years in jail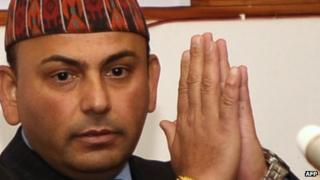 A court in Japan has formally acquitted a Nepalese man who spent 15 years in jail for a murder that he did not commit.
Govinda Prasad Mainali said that the Japanese government, police and anyone else involved in his case should now apologise to him and his family.
The migrant worker was convicted in 2000 of murdering a Japanese woman.
His conviction was first quashed in June. He has now been declared not guilty by the Tokyo High Court.
Mr Mainali was sent back to Nepal in June by immigration authorities because he had overstayed his visa during his time in prison.
The court still went ahead with his retrial at the start of last week, however, with the prosecution saying it now believed he was innocent.
Prurient headlines
Mr Mainali told reporters in Kathmandu that he had been waiting a long time for Wednesday's court ruling.
"I was forced to undergo 15 years of horrible and torturous time in jail despite being innocent," he said.
"Had a DNA test not been conducted, I would have been languishing in jail and probably would have died there.
"I have prayed to God and asked: what mistake have I committed? God was the only witness of my pleas."
Human rights group Amnesty International said that his case was "a sharp reminder why Japan must reform its police detention system".
"It is simply not acceptable that the police can act with carte blanche powers during interrogations, with suspects routinely tortured or otherwise ill-treated and denied access to lawyers," an Amnesty statement said.
The murder attracted prurient headlines in the Japanese tabloid press, which said the victim was leading a double life as an elite businesswoman by day and a prostitute by night. Her strangled body was found in her Tokyo apartment by police in 1997 and Mr Mainali, who knew the victim and lived near her, was arrested for her murder.
Always protesting his innocence, he officially asked Japan's slow-moving justice system for a retrial in 2005 - but was only granted one this year.
His defence argued that the DNA evidence, also tested only this year, proved that the original police inquiry overlooked the fact that semen found on the dead woman was not his.
Local media reported that Mr Mainali's case was strengthened because DNA samples collected from her nails and body hair were also not from him.
Correspondents say that his acquittal has led to questioning not only of Japan's justice system but also of the work of prosecutors, who take a leading role in criminal investigations.