Taiwan military lie detectors 'test loyalty'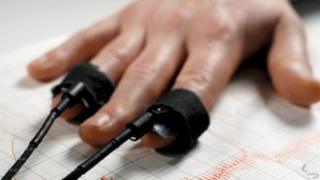 Officials in Taiwan have told the BBC that lie detector tests for military personnel based abroad are a useful way to evaluate whether they are spying for other countries.
On Monday Defence Minister Kao Hua-chu told parliament the "test of loyalty" had been operating since last year.
The move follows a string of espionage cases, sometimes involving high-ranking officers spying for China.
Despite recent warmer relations, China regards Taiwan as a renegade province.
The BBC's Cindy Sui in Taipei says that while the two countries are closer diplomatically than they have been for decades, Taiwanese officials suspect that Beijing is using the relaxed atmosphere to step up its recruitment of spies.
The two countries are believed to have spied on each other ever since they separated in 1949 at the end of a civil war. They have yet to sign a peace treaty and Beijing still regards the island as part of its territory awaiting reunification, by force if necessary.
Recalled
Officials told the BBC that officers based abroad - including cadets undergoing training - have to do the test once a year when they return for holidays or reassignment.
Those stationed in Taiwan who have access to sensitive information are also to be given the tests regularly.
So far this year, more than 200 military personnel have taken the test, with the highest ranking staff tested being major generals, the ministry told the BBC.
Last month, the defence ministry said that Taiwan had arrested three retired military officers suspected of spying for China - but other media reports said that a total of eight officers had been arrested.
A general in charge of the army's communications and electronic information division was sentenced to life imprisonment for spying last year after reportedly being caught having failed a lie detector test.
The case is considered one of the most serious security breaches Taiwan has seen in decades.
More than 50 military attaches and other senior personnel assigned abroad have been called back since last year to do the lie detector test, the defence minister told parliament on Monday.
"We haven't come across anything unusual in these tests," he told legislators.
He said that no-one who had taken the test had failed.
The lie detector measures blood pressure, pulse rate and breathing. They operate on the basis that when a person lies, their body produces tell-tale physiological responses.