New Zealand Pike River miner's father 'angry' to hear disaster was 'preventable'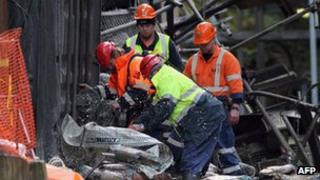 The father of a Fife miner who was killed at a mine in New Zealand said he was "disappointed and angry" to hear the gas blast was preventable.
Malcolm Campbell, 25, from St Andrews in Fife, and Pete Rodger, 40, from Perthshire, were among 29 workers killed at the Pike River mine in 2010.
Mr Campbell's father, also called Malcolm, said it was "unbelievable" it happened "in this day and age".
An investigation has found multiple warnings were ignored.
Safety systems at the mine were inadequate, and reports of excessive methane levels were "not heeded".
A drive for production "before the mine was ready" created the circumstances for the tragedy, the report found.
The miners' bodies remain in the mine.
Mr Campbell said: "I'm really, really disappointed in what's being going on and I'm really angry about it as well.
"It's so terrible and unbelievable that in this day and age that this would happen.
"I don't think they will ever get their bodies out of the mine.
"We are heading back over this month to say goodbye to our son."
The mining disaster in 2010 was New Zealand's worst in almost a century.
"The Pike River tragedy was preventable but administrative and regulatory reforms are urgently needed to reduce the likelihood of further tragedies," the Royal Commission report said.
Minister for labour Kate Wilkinson resigned shortly after the report was released. The disaster "happened on my watch", she said, calling stepping down the right thing to do.
"Unacceptable risks"
The commission found that the 19 November blast at the mine, on the west coast of the South Island, was caused by a methane gas explosion.
The mine was new, and the systems and infrastructure necessary to safely produce coal "had not been completed". Ventilation and methane drainage systems "could not cope with everything the company was trying to do" - and numerous warned were ignored.
"In the last 48 days before the explosion there were 21 reports of methane levels reaching explosive volumes, and 27 reports of lesser, but potentially dangerous, volumes," the report said.
"The reports of excess methane continued up to the very morning of the tragedy. The warnings were not heeded."
Workers were exposed to "unacceptable risks" because health and safety was not adequately addressed in a drive to achieve production.
The report also highlighted failings by the Department of Labour, saying it did not have the "focus, capacity or strategies to ensure that Pike was meeting its legal responsibilities".
It called for a new regulator to be established to focus solely on health and safety issues and for mining regulations to be updated.
Prime Minister John Key apologised to relatives of those who died for regulatory failures, but hit out at the mining company, saying it "completely and utterly failed to protect its workers".
Last month the mine's CEO Peter Whittall pleaded not guilty to labour violation charges. A contractor at the mine admitted three health and safety charges in July.
The Pike River Coal company is not contesting health and safety charges.
Scottish miners
The victims of the blast included two Scots.
Pete Rodger, who was 40, moved to New Zealand from Perthshire two years before the blast, to be closer to his mother and sister.
He lived with his girlfriend Dianne Morris.
Mr Rodger had previously worked offshore in the North Sea oil industry but had decided on a change of career after injuring his leg at work.
Malcolm Campbell, a 25-year-old from St Andrews in Fife, had been due to marry his fiancee Amanda Shields.
He had been an apprentice at a paper mill in Fife before travelling to Australia and finding work as a miner.
After a year in Australia, he moved to New Zealand to take up work at the Pike River mine.