Burma: President approves foreign investment bill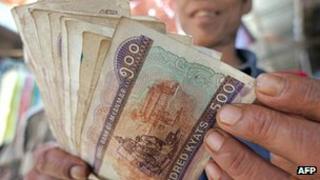 Burma's President Thein Sein has signed into law a foreign investment bill that aims to attract foreign capital.
Though details of the law have not yet been published, reports say it removes a 50% cap on foreign holdings.
An initial draft was criticised as being too favourable to well-connected business leaders in Burma.
Meanwhile, European Commission President Jose Manuel Barroso is due to arrive later, in the latest high-profile visit by a Western politician.
He is expected to arrive in the capital Nay Pyi Taw late on Friday.
There has been a surge of interest in Burma from global multinationals since the military-backed government began easing political repression.
"Investors are waiting for the bill to be approved. That's why he signed it as soon as he could," Zaw Htay, an official in President Thein Sein's office, told AFP news agency.
He said the former general wanted to enact the bill ahead of a major summit of Asian and European leaders due to start in Laos on Monday.
The new law, which state media reported met the president's requests for more flexibility, reportedly allows the exact investment ratio to be decided by foreign and local partners.
News of the law came as the World Bank announced that it had approved an $80m (£50m) grant and pledged lending for the country for the first time in 25 years.
Last month, the US lifted sanctions and restrictions on financial institutions lending to Burma.
Reforms have been taking place in Burma since elections in November 2010 saw military rule replaced with a military-backed nominally civilian government.
Since the country began its reforms, the international community has increasingly looked to invest in Burma, which the International Monetary Fund says is one of the poorest countries in Asia.