Four top Pakistan cricketers hit by massive tax bill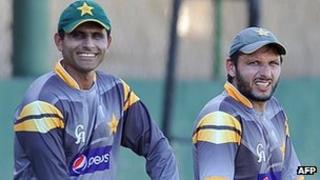 Ex-Pakistani cricket captains Shahid Afridi and Younis Khan are among four players facing tax demands totalling 80m rupees ($825,000, £521,000).
They have been given two weeks by the Federal Board of Revenue (FBR) to pay up or face penalties.
Top cricketers are among Pakistan's high earners, able to command monthly salaries of 313,000 rupees.
Pakistan has faced criticism from Western donors for failing to tax the rich effectively.
Notices were served by the FBR to Abdul Razzaq and Umar Akmal as well as Shahid Afridi and Younis Khan.
"The notices have been served on these four players as they didn't pay taxes on income they earned from commercials, their annual contracts and other sources which is around 80m rupees," an FBR spokesman said.
He went on to say that warnings over unpaid tax were given earlier this year to team mates Misbah-ul-Haq, Mohammad Hafeez, Wahab Riaz, Umar Akmal and Azhar Ali, and Taufeeq Umar.
As well as their monthly salaries, senior cricketers can also reportedly earn match payments of 375,000 rupees for test matches and 275,000 rupees for one-day internationals.
The country's tax authorities have been adopting a stricter approach to collecting taxes from celebrities and athletes to meet annual tax targets, analysts say.