Japan protests to US over Okinawa 'assault'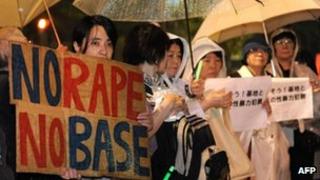 Japan has protested to the US after another incident in Okinawa allegedly involving a member of the US military.
A US serviceman reportedly entered an apartment above a bar and hit a teenage boy. The man fell from a window and was taken to hospital, local reports said.
The Foreign Ministry lodged a complaint with US envoy John Roos, Kyodo said.
The incident comes with all US troops in Japan under a night-time curfew following an alleged rape.
The US has some 26,000 troops based on Okinawa, where crimes involving service personnel have become a source of tension.
'Trespassing'
Local reports said that the serviceman, who had been drinking, hit a 13-year-old boy after entering his room.
"Let me be absolutely clear. I am very upset, it's an understatement to say I am very upset with the reported incident in Okinawa," Mr Roos said, after he was summoned to the Foreign Ministry.
"Police are investigating the case, in which the man could be charged for trespassing, injury and destruction of property," a local police spokesman was quoted by AFP news agency as saying.
He added that the man was still at a US military hospital and that police would be requesting custody.
Japanese officials have expressed anger over the alleged incident, with Foreign Minister Koichiro Gemba calling it "inexcusable".
Two US sailors were arrested in Okinawa last month on suspicion of raping a Japanese woman.
Okinawa's legislature subsequently passed a unanimous resolution condemning the alleged rape and calling on the US to prevent crimes against island residents.
About three-quarters of all US bases in Japan are located in Okinawa, which represents less than 1% of Japan's landmass.
The gang-rape in 1995 of a 12-year-old Okinawan girl by three US service personnel sparked outrage and led to moves to reduce the US military footprint there.
The US says it is planning to relocate several thousand marines off Okinawa, but has linked their departure to progress on a new base in the north of the island, which many residents oppose.