Pakistan police probe Lahore school attack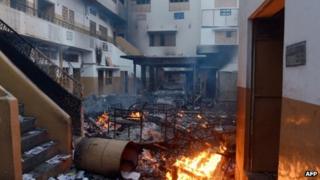 An inquiry comprising clerics and local politicians has been formed in Pakistan to investigate the destruction by a mob of a leading school in Lahore.
Hundreds of protesters on Wednesday ransacked the school and set fire to its furniture over claims that a teacher insulted the Prophet Muhammad.
The teacher is now hiding but the school's principal has been arrested.
Farooqi Girls' High School is considered one of the better educational institutes in Lahore.
But officials say that it upset hardliners - who came from outside the Lahore area - when the teacher made a mistake while copying Islamic text from an exercise book in a rush.
Sacked
The text was distributed among pupils as part of their homework to be done during Eid holidays from 26 to 29 October, lawyer Jawad Ashraf told the BBC.
Mr Ashraf is representing school principal Asim Farooqi, 77, who is now in police custody.
Mr Farooqi's son Sameer - who has been in hiding since the attack - told the BBC that the school was set upon after working hours on Tuesday by "a crowd of people who set furniture ablaze in the courtyard".
Mr Ashraf said that the teacher at the centre of the row, Arfa Iftikhar, "perhaps inadvertently skipped a page of the book and ended her handwritten text with some lines from the next chapter, which is about street beggars".
He said that Mr Farooqi fired Ms Iftikhar on Tuesday, the first working day after the Eid holidays, after the school management received calls from parents pointing out the error.
Correspondents say it is not clear who distributed copies of the error, but as is often the case in Pakistan, the issue was seized upon by Islamic hardline groups.
The authorities have now said that if it turns out the school administration was not at fault, action will be taken against those who took matters into their own hands and destroyed the school.