Victoria Cross for Australian soldier in Afghan battle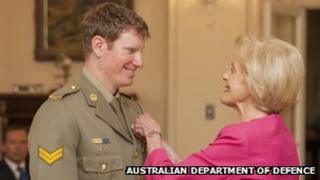 An Australian soldier has been awarded the Victoria Cross for actions to save troops in an ambush in Afghanistan.
Corporal Daniel Keighran, 29, repeatedly drew enemy fire away from other patrol members during a battle in Uruzgan province in August 2010.
Prime Minister Julia Gillard described his actions as "spectacular acts of bravery".
He is the third Australian soldier to receive the highest honour for actions in Afghanistan.
The two other recipients were special forces soldiers. Corp Keighran is a member of the 6th Battalion Royal Australian Regiment.
Corp Keighran was presented with his medal by Governor-General Quentin Bryce at a ceremony in Canberra.
His citation said that on 24 August 2010 a joint patrol with Afghan soldiers was "engaged by a numerically superior and coordinated enemy attack".
He repeatedly drew fire away from colleagues and worked to identify enemy firing positions. When Australian soldier Lance Corporal Jared MacKinney, 28, was injured, he again drew fire so that others could help. Lance Corp MacKinney did not survive.
Corp Keighran's acts "ultimately enabled the identification and suppression of enemy firing positions", the citation said.
"These deliberate acts of exceptional courage in circumstances of great peril were instrumental in permitting the withdrawal of the combined Australian and Afghan patrol with no further casualties."
Corp Keighran paid tribute to his fellow soldiers, saying the award was "as much theirs as mine".
"I wouldn't be here today if it wasn't for the boys with me that day. The support that they provided me was excellent," the Australian Broadcasting Corporation quoted him as saying.
He is the 99th Australian to be awarded the Victoria Cross, and only the third since the Vietnam War.
He receives the Victoria Cross for Australia, which was created in 1991 and is a separate award from the British VC.