Many Rohingya missing as boat sinks off Bangladesh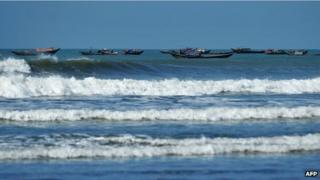 About 120 people are missing after their boat capsized in the Bay of Bengal, police in Bangladesh say.
Survivors say many of those on the boat were Rohingya Muslims who have fled recent ethnic violence in Burma.
Local fishermen rescued 13 people from the boat which sank as it was transferring passengers to a larger ship bound for Malaysia.
More than 20,000 Muslims have been displaced by fighting which erupted in Rakhine state 10 days ago.
At least 80 people have died in the violence and thousands of homes have been burnt down.
Clashes in Rakhine in western Burma earlier this year uprooted more than 70,000 Rohingya.
That violence was sparked by the rape and murder of a young Buddhist woman in Rakhine.
Reprisal attacks on Rohingya by ethnic Rakhine spiralled and the government was forced to impose a state of emergency to end the violence.
Many of those displaced in June now live in squalid camps either in the state capital, Sittwe, or across the border in Bangladesh.
There is long-standing tension between ethnic Rakhine people, who make up the majority of the state's population, and Muslims, many of whom are Rohingya and are stateless.
The United Nations describes the Rohingya as a persecuted religious and linguistic minority.
The Burmese government, on the other hand, says they are relatively recent migrants from the Indian sub-continent.
The authorities regard the Rohingya as illegal immigrants and correspondents say there is widespread public hostility to them.
In the most recent clashes, some Rohingya have accused the security forces of siding with the Rakhine and shooting at Muslims.
The government declared a curfew in the affected areas on Monday, and has deployed additional security personnel in Rakhine state, but the violence has continued.