Afghanistan presidential vote date is announced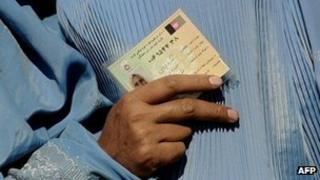 The Afghan Election Commission has said the country's next presidential election will be held on 5 April 2014.
The announcement ends speculation that President Karzai was considering holding elections before then.
Mr Karzai's second term in office formally ends in August 2014. He is constitutionally barred from running for a third term.
The elections are seen as crucial to Afghan stability after the withdrawal of Nato troops at the end of 2014.
Critics have warned that the president may try to manipulate the polls to ensure the election of an ally.
But Mr Karzai and his supporters have strenuously denied this, arguing that all they want is a peaceful transfer of power.
European Union ambassador Vygaudas Usackas said that the commission's announcement was "a positive demonstration that the Afghan authorities are taking their political commitments [made] at the Tokyo conference very seriously".
Donor nations at the conference in July pledged $16bn (£10bn) to Afghanistan to prevent the country from slipping back into turmoil when Nato troops leave, but with several pre-conditions including the holding of presidential elections in 2014.
"The elections must be inclusive, transparent and with a legitimate outcome," Mr Usackas said.
President Karzai's re-election in 2009 was beset by widespread allegations of fraud, and the credibility of the next vote is seen as playing an important role in reducing violence after the Nato withdrawal.
Earlier this month, the International Crisis Group (ICG) warned that the departure of Nato could be followed by the government's collapse and even civil war.
The ICG said that the Afghan police and army were unprepared for security responsibility.
It added that polls in two years' time would be "plagued" by fraud unless the state acted to ensure a clean vote.
The Afghan government labelled the predictions "nonsense and garbage".