Q&A: Red Cross on relief efforts in Rakhine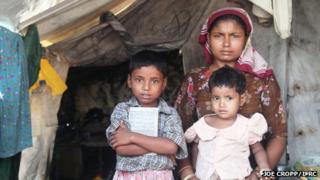 Joe Cropp of the International Federation of Red Cross and Red Crescent Societies (IFRC) recently visited Burma to work with the Myanmar [Burma] Red Cross helping ethnic Rakhine and Muslim communities affected by inter-communal violence. He returned last week, before the latest outbreak of violence between Rakhine Buddhists and Muslims, mostly from the stateless Rohingya minority, which left dozens dead and thousands more displaced.
Where were you?
I travelled to Sittwe, which was the centre of the inter-communal violence in June, but has escaped the latest unrest further north. Myanmar Red Cross is well respected in Rakhine because of its neutral approach - this meant we were able to move freely among both affected communities.
What evidence of violence could you see?
The physical destruction is still evident in Sittwe township, where some 4,800 homes were damaged or destroyed.
In most parts of the town life continues as normal, on the surface at least. In other parts, entire streets are little more than a few blackened tree stumps and occasional burnt pieces of timber where a home once stood.
The starkest evidence of the destruction, however, is in the relief camps, where the displaced families who lost everything are now living.
How many have been displaced and where are they?
When I was there, an estimated 75,000 people were living in camps and other temporary locations in and around Sittwe.
The government has separated the communities, for how long it is unclear, with the larger displaced Muslim community - some 67,000 people - accommodated in nine camps outside Sittwe.
The displaced ethnic Rakhine are in camps inside the town. Their accommodation ranges from single-room bamboo shelters to canvas tents, each housing a family.
It is estimated that a further 28,000 people, predominantly Muslim families, have been displaced by the recent unrest further north and will be in urgent need of aid.
Who is in the camps and what are conditions like?
The people in the camps are typical families. I met teachers, shop owners, tri-shaw drivers, business people and carpenters. There is a sad irony in a carpenter living in a tarpaulin tent, surrounded by almost 200 other tarpaulin tents.
Their condition varies, depending on the level of relief that has arrived. The most in need are still in canvas tents, which become stiflingly hot during the day.
Water often needs to be trucked in and sanitation is a major issue - many of the camps are still short of suitable toilets.
The evidence of this can also be seen in the first aid clinics run by the Red Cross. Most cases are skin rashes and diarrhoea, the result of poor water and sanitation.
In each camp we visited, the visible needs were very similar - food, shelter, safe water and sanitation facilities.
The government, Red Cross, United Nations and a few other humanitarian organisations are working to provide this support, but more still needs to be done.
There are also hidden needs. People have endured trauma and live every day with uncertainty. There is a need for "psychosocial" support for these families, who lost everything during the violence.
This is not as obvious as the physical needs, but you can see it in people's faces and hear it on the edge of their voices as they talk about lost homes and lost lives.
One woman said to me: "When I think about it, I just want to cry." I think that sentiment rings true for thousands of others.
Did you get a sense of tensions on the ground?
The latest violence hit other areas of Rakhine state, north of Sittwe. The township remains extremely tense and polarised, with both communities on high alert. A night curfew remains in place.
In the camps themselves, there is a mood of sadness and loss, mixed with flashes of anger at the people who caused the waves of violence. Basically people want their lives back and they want to feel secure.