US troops in Afghanistan killed by man in police uniform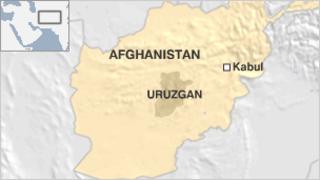 Two US soldiers serving in Afghanistan have been killed by a man wearing Afghan police uniform, military officials say.
A statement from US forces attached to Nato said the man shot the soldiers in Khas Uruzgan, Uruzgan province.
There has been a series of incidents in which foreign troops have been killed by Afghan soldiers or policemen.
Last month the US said it was suspending training for Afghan police recruits due to "insider attacks".
It said it was carrying out checks on whether recruits had links to the Taliban.
Training Afghan security forces is an essential part of Nato's strategy before foreign combat troops pull out in 2014.
US forces spokeswoman Maj Lori Hodge said the latest incident happened before noon on Thursday but declined to give further details.
She said it was not clear if the attacker was an enlisted policeman or a militant disguised as a police officer.
A brief statement posted on the website of Nato's International Security Assistance Force (Isaf) said: "Two US Forces-Afghanistan service members died after an individual wearing an Afghan National Police uniform turned his weapon against them in Khas Uruzgan, Uruzgan. The incident is currently under investigation."
Provincial government spokesman Abdullah Himmat said the attack happened near an Afghan police compound in Khas Uruzgan district.
Analysts say a growing number of insider attacks on coalition troops or Afghan security forces has raised questions, not only about recruitment procedures but about the trustworthiness of tribal leaders who endorse each recruit.
Military commanders refer to such rogue attacks as "green-on green" or "green-on-blue" - green for Afghan forces and blue for the coalition.
Meanwhile, the UK's Ministry of Defence has named a female soldier killed in Afghanistan on Wednesday as Channing Day from 3 Medical Regiment. She was from County Down, Northern Ireland.
Initial reports said she and another soldier had been killed by an Afghan ally, but UK officials later said they died in a gunfight while on foot patrol.
The Italian defence ministry said on Thursday that an Italian soldier named as Tiziano Chierotti, 24, had died after being wounded in a shooting at Bakwa in Farah province.