Vietnam detains student over 'anti-state propaganda'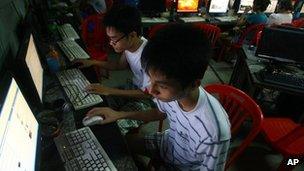 A Vietnamese student who had been missing for two weeks has been held by police over "security matters" state-run media say.
Nguyen Phuong Uyen, 20, is being questioned at Long An province jail, says the Ho Chi Minh Law newspaper.
She is accused of distributing anti-state leaflets, the paper added.
Police "stormed into her room" on 14 October and held her in an unknown location, students said in a letter to President Truong Tan Sang on Saturday.
Distributing anti-state material, a charge regularly used against dissidents in the Communist country, carries a maximum 20-year jail term.
Uyen had joined anti-China protests and anti-corruption campaigns against the government, local reports online say.
University students have been actively calling for the release of Uyen, a student at Ho Chi Minh City's Food Technology University.
The government has recently been stepping up efforts against critics, rights groups say.
Last month, it jailed three bloggers accused of spreading anti-government propaganda for between four and 12 years.